Telescopic wheel loader telescopic wheel loader 4275 T
The strongest Thaler.
It lifts heavy, high and far.
Technical details
| | |
| --- | --- |
| Engine | 4-cylinder-Yanmar, 53 kW (72 hp) |
| Displacement | 3320 ccm |
| Exhaust gas treatment | Yes |
| Cooling | Water cooler, Oil cooler |
| Hydrostatic drive / Pressure | Hydrostat/ 365 bar |
| Transmission | axialkolbenmotor-gelenkwelle |
| Lifting capacity | 4000 kg |
| Standard tires | 405/70-R20ET+30 AS |
| Working hydraulics / Pressure | ca. 75 l/min / 200 bar |
| Tipping load machine straight with bucket (tele arm fully in) | 3000 kg |
| Tipping load machine straight pallet forks (tele arm fully in) | 2500 kg |
| Speed in km/h | 25 km/h (2 stage) |
| Battery | 12v-100AH |
| Volume Diesel tank | 50 l |
| Volume Hydraulic oil tank | 70 l |
| Width | 1730 mm |
| Load-over height (tele arm fully out on telescop loaders) | 4460 mm |
| Load-over height (tele arm fully in on telescop loaders) | 3550 mm |
| Height | 2570 mm |
| Operating weight | 5200 kg |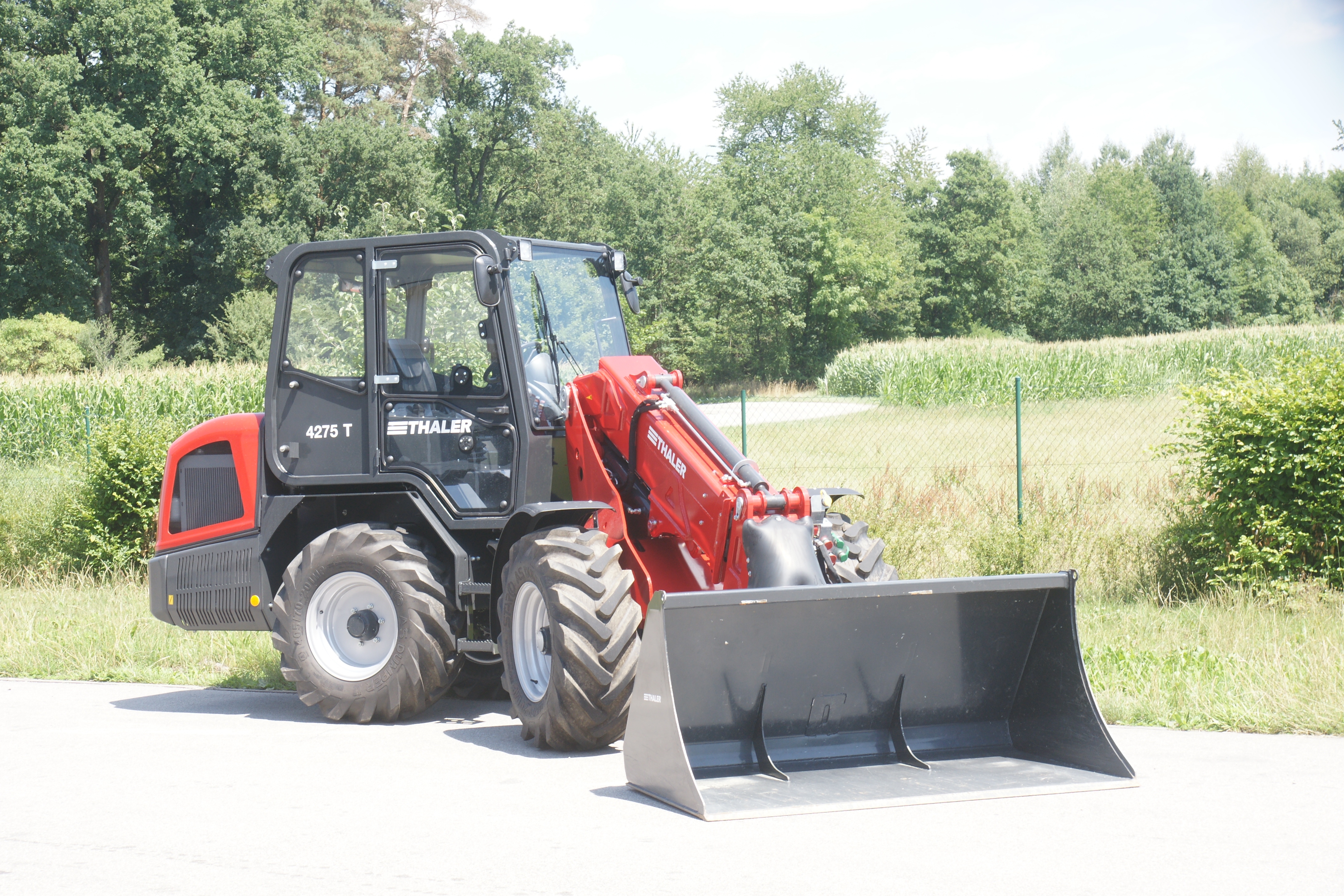 Made for heavy duty!
Our heaviest model for the heaviest loads. An extending telescopic boom that is able to reach a load-over-height of 3,90 meters. An impressive tipping-load of 3000 kilograms. A powerful Yanmar engine produces a massive 72 horsepower.
If you wanna go big, this is the way to go.
The engine meets the latest Stage V emission standards.
It has a diesel oxidation catalyst (DOC) and a diesel particulate filter (DPF) to ensure emissions are always environmentally-friendly.
Yanmar gives a minimum 6000 hrs maintenance free promise for the DPF. So you can concentrate on the things that matter.
Lift and move heavy-weight materials while getting the best possible support from the oscillating rear axle that provides maximum stability.
A shorter rear end provides better handling at higher speeds.
The hydraulic system pumps 75 liters per minute so you won´t run out of juice.
Want to hear more?
Every 4275 T comes with roadworthy lighting and 3 LED working lights.
The power is converted into motion by high output planet drives operated with automotive control for maximum shear force at all times. A 40% self locking differential provides good grip, even on slippery ground.
A Thaler inch-brake-pedal controls creeping with full lifting force and the maintenance free wet multi-disc-brake with just one pedal.
Ask for our many available options to fit the 4275 more to your needs. Or find out about all the attachments we offer that can help you to go big in your business.
As hard of a worker the 4275 is, he goes easy on the operator.
The drivers cab is vibration damped. The adjustable ergonomic seat provides a smooth ride.
The ergonomic joystick for one-hand operating provides easy and intuitive handling.
Besides the good maneuverability it shares one other thing with any other Thaler.
Of course it comes with a hydraulic quick hitch.
Give us a call and ask for more information or an offer on the 4275 T.


standard equipment
3 LED working lights
lighting according to roadworthiness requirements
Thaler inch-pedal for creeping
adjustable ergonomic seat
adjustable digital multi-purpose steering column
hydraulic quick hitch
optimized parallel motion
high tensile Thaler articulated pendulum joint provides constant all wheel ground contact
2 steering rams
convenient access, no drive shaft hump
maintenance free wet multiple-disc-brake
lubrication points optimized for easy access
oscillating rear axle - for maximum stability
Multi-disc self-locking differential (40%)
DPF minimum 6000 hrs maintenance free
Cup holder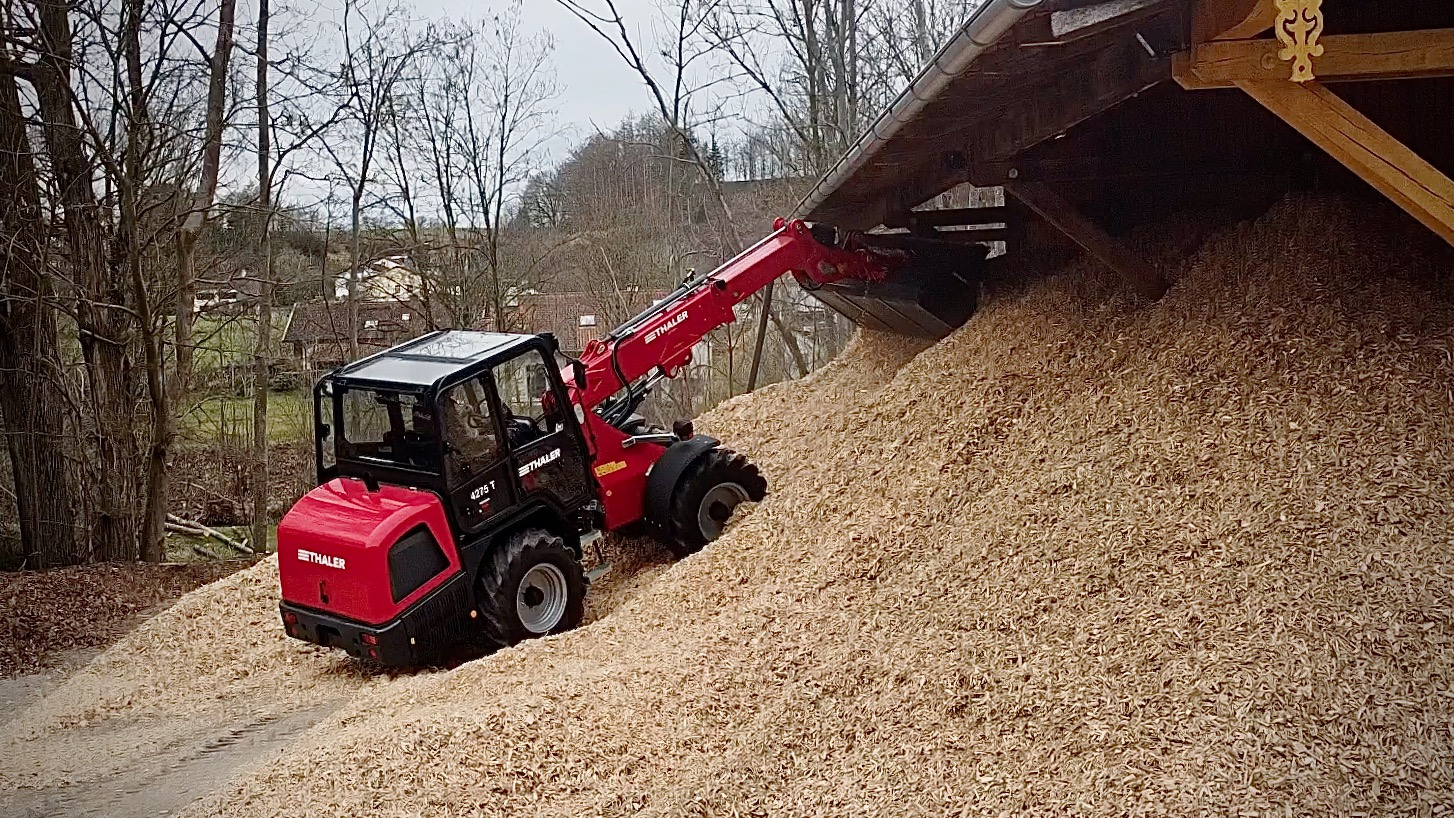 high range of operation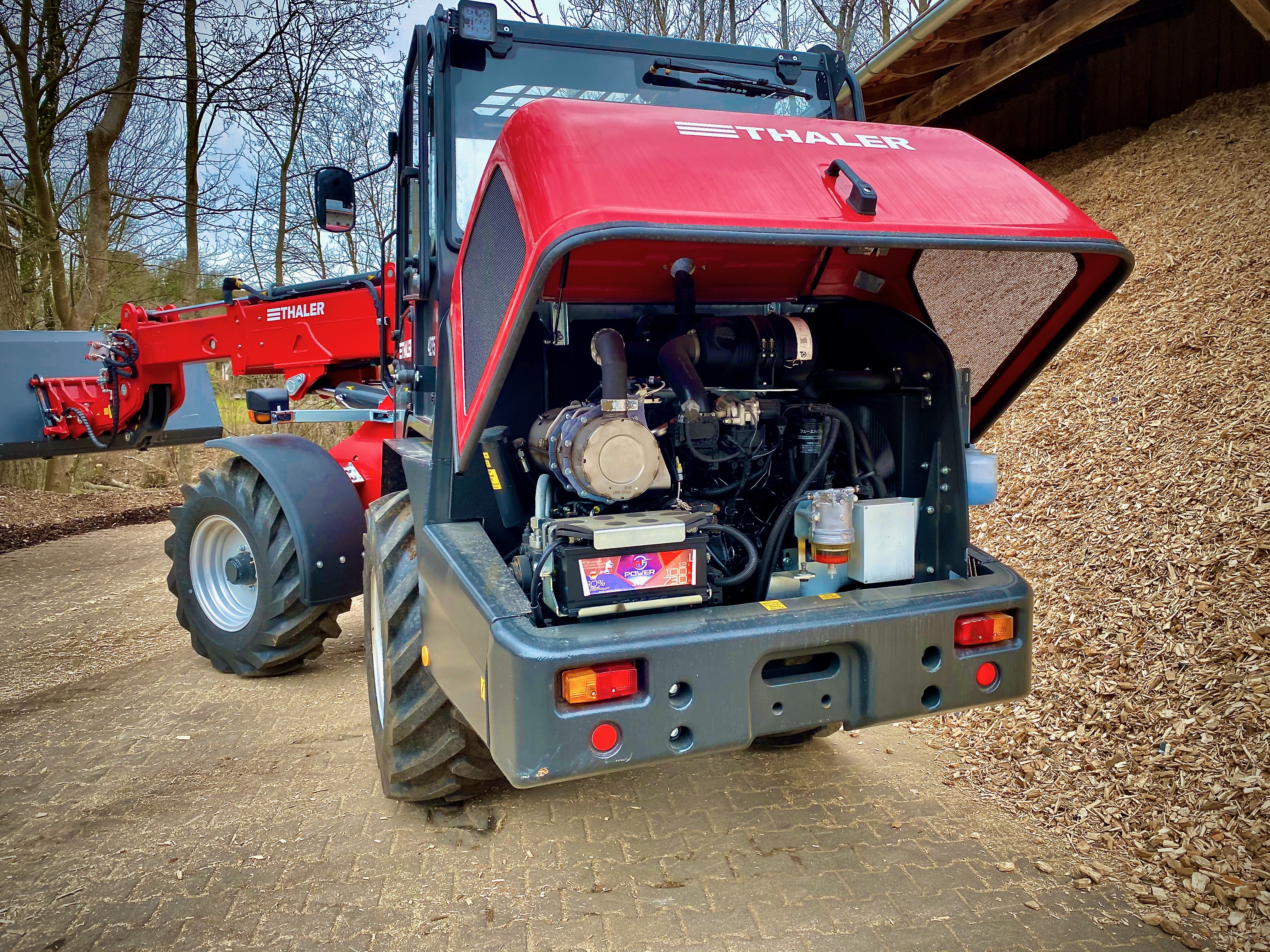 good accessibility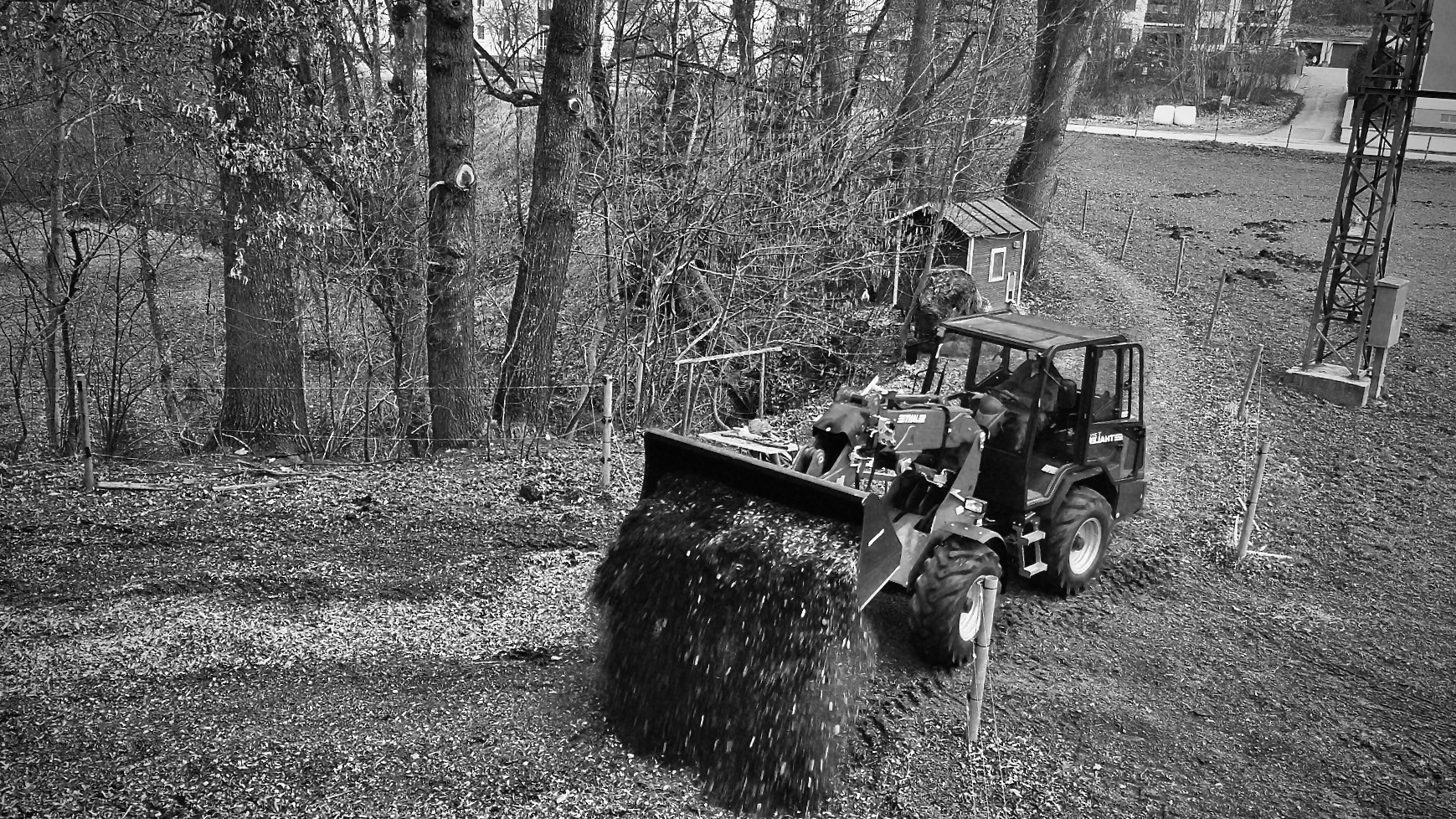 versatile application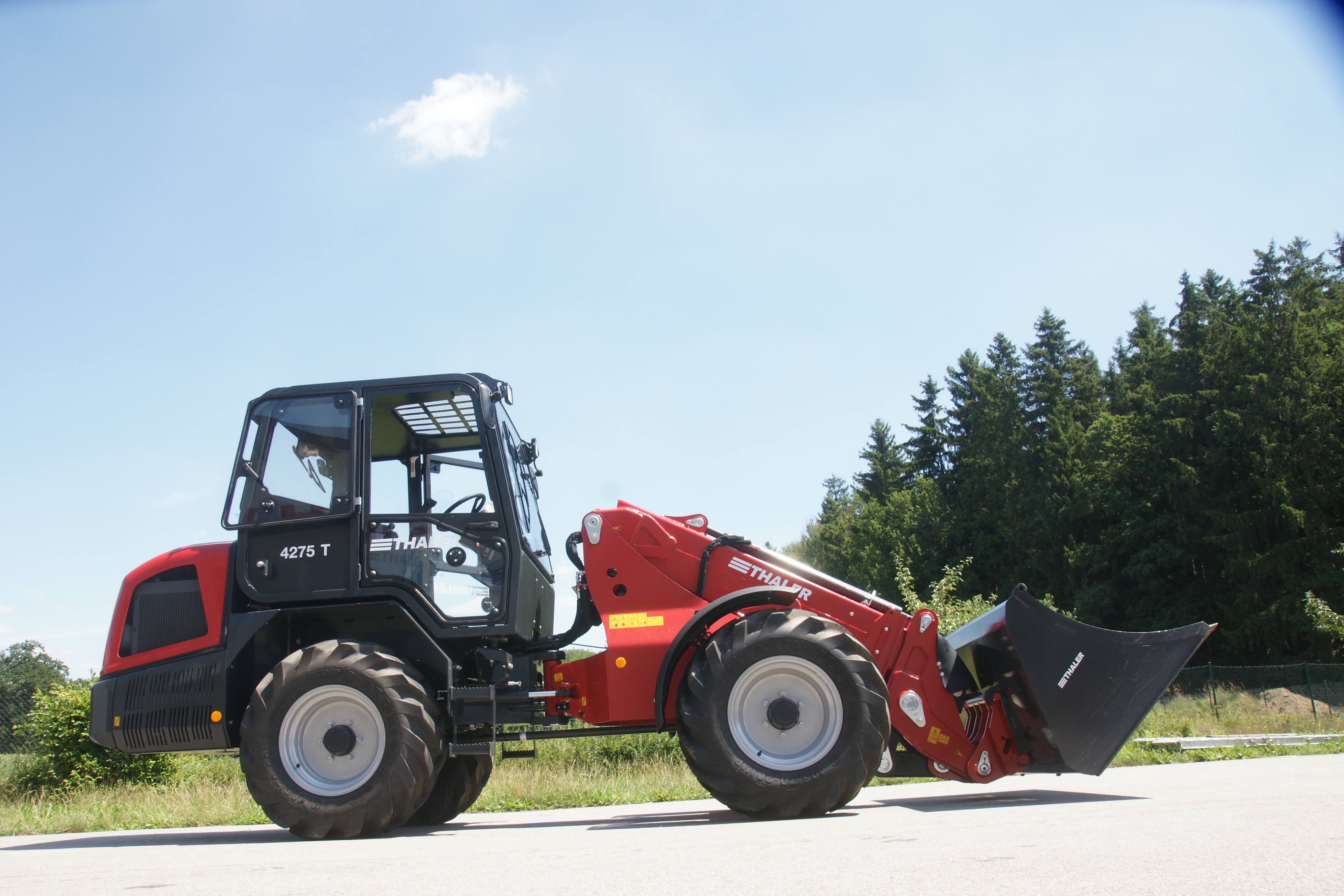 Telescopic wheel loader compared
Engine
Displacement
Exhaust gas treatment
Cooling
Hydrostatic drive / Pressure
Transmission
Lifting capacity
Standard tires
Working hydraulics / Pressure
Tipping load machine straight with bucket (tele arm fully in)
Tipping load machine straight pallet forks (tele arm fully in)
Speed in km/h
Battery
Volume Diesel tank
Volume Hydraulic oil tank
Width
Load-over height (tele arm fully out on telescop loaders)
Load-over height (tele arm fully in on telescop loaders)
Height
Operating weight
3-cylinder-yanmar-38hp, 28,2 kW (38 hp)
1642 ccm
Yes
Water cooler, Oil cooler
Hydrostat/ 365 bar
2000 kg
400/50-15 (Breitbereifung) mit 6-Loch Felge
ca. 51 l/min / 180 bar
690 kg
1320 kg
1020 kg
18 km/h (2 stage)
12V-75AH
50 l
50 l
1380 mm
3897 mm
2480 mm
2240 mm
2800 kg

4-cylinder-yanmar-48hp, 35,4 kW (48 hp)
2190 ccm
Yes
Water cooler, Oil cooler
Hydrostat/ 365 bar
axialkolbenmotor-gelenkwelle
2500 kg
400/50-15 (Breitbereifung) mit 6-Loch Felge
ca. 51 l/min / 200 bar
1270 kg
2280 kg
1330 kg
2070 kg
20 km/h (2 stage)
12V-75AH
50 l
50 l
1386 mm
3897 mm
3142 mm
2270 mm
3300 kg

4-cylinder-Yanmar, 53 kW (72 hp)
3320 ccm
Yes
Water cooler, Oil cooler
Hydrostat/ 365 bar
axialkolbenmotor-gelenkwelle
4000 kg
405/70-R20ET+30 AS
ca. 75 l/min / 200 bar
3000 kg
2500 kg
25 km/h (2 stage)
12v-100AH
50 l
70 l
1730 mm
4460 mm
3550 mm
2570 mm
5200 kg

4-cylinder-yanmar-48hp, 35,4 kW (48 hp)
2190 ccm
Yes
Water cooler, Oil cooler
Hydrostat/ 365 bar
axialkolbenmotor-gelenkwelle
2500 kg
400/50-15 AS Profil mit 6-Loch Felge
ca. 51 l/min / 200 bar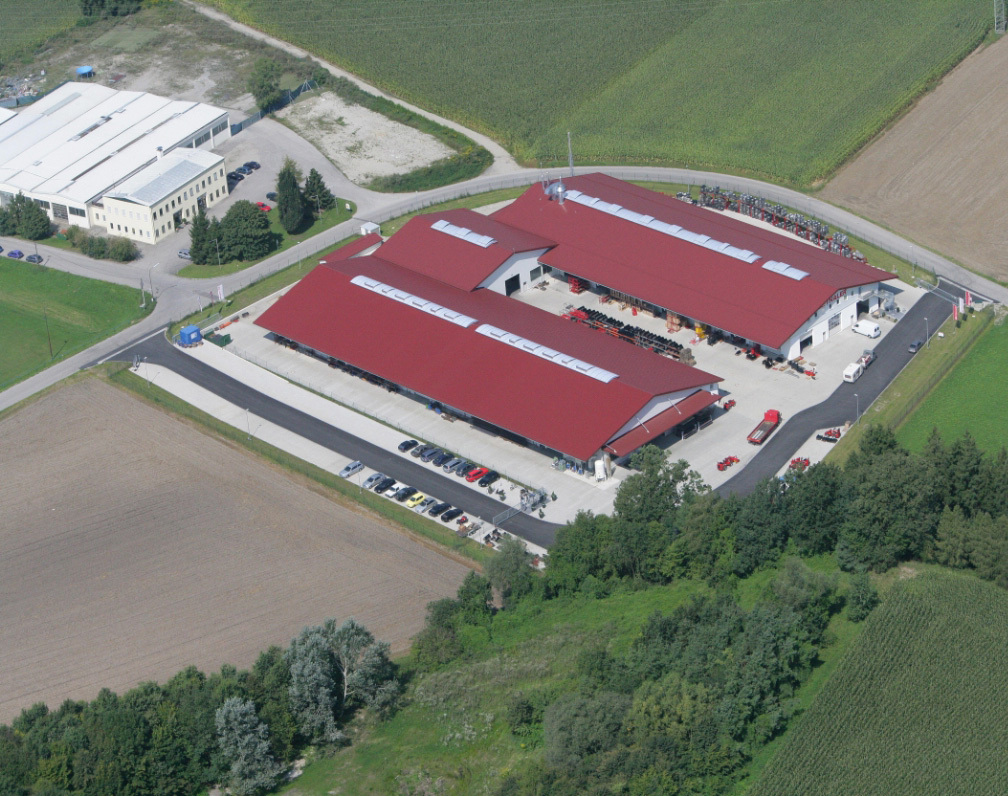 Consulting and Sales
Your concern is our concern