1/30/2023, Seuchz-Wirth, Landwirtschaft
Allround Talent Thaler 2230S
Unser Landwirtschaftlicher Betrieb im schönen Oberfranken hat sich für einen Thaler Hoflader 2230 S entschieden. Der Hoflader entpuppte sich als ein allround Talent auf unseren Hof. Mittlerweile löst er in vielen Arbeiten den großen Frontladerschlepper ab. Wir können unsere Altgebäude geschickt und entspannt mit der Maschine nützen. Es gibt keinen Tag wo der Lader nicht auf dem Hof unterwegs ist. Eben eine absolut vielseitige Maschine die nicht mehr weg zu denken ist.
Yard loader 2230 S · 3-zylinder-yanmar-25ps
1/12/2022, Tom Höger, Sawmill Timmsorf
Handling wood with the 2230L in special colour
The little Thaler is a real piece of gold. I use the loader mainly for handling wood. As an articulated loader, it is very suitable for this purpose because it is very easy to move the wood sideways. Measured by the empty weight, it carries a lot of wood. This makes the work productivity enormously high. Getting in and out is very easy. The loader is quickly cleaned of chips with the puster.
Yard loader 2230 L · 3-cylinder-yanmar-25ps
10/4/2021, Family Ziesler Anger in Steiermark Austria, Agriculture
We already have 2300 hours on the clock.
We are very satisfied with the Thaler loader. We have about 2300 hours on top and all the yard work is done almost exclusively with the loader. The powerful drive and the manoeuvrability on our steep farmland have only had a positive effect.
We use the Thaler loader several times a day. In cramped yards like ours, implements (mowers, trailers, etc.) have to be moved several times a day or parked close together. We then fetch the equipment with our yard loader. This saves time and the effort of hitching/unhitching with the tractor. The normal stable work is also done with the yard loader. Attached are a few pictures of normal activities (fetching/distributing bales, fetching green fodder with a box, moving a small slurry tank).

4/12/2021, Josef Urlberger, Agriculture
The best product I have bought so far.
The Thaler loader is the best product I have bought so far. I am a farmer and have had the farm for 40 years. It is not only the product very good. Also the service and advice are not only good but also very good. Have already driven 20 hours on 14 days. Ease of work without end, would buy it again immediately.
Yard loader 2230 S · 3-zylinder-yanmar-25ps
4/6/2021, holiday farm Schweinberg, bavarian forest, organic farm
It is impossible to imagine daily work without the Thaler yard loader.
On our holiday and organic farm in the Bavarian Forest, not only our guests but also our animals should feel comfortable. We put this claim into practice every day with a lot of energy and passion. Our Thaler loader is a great help and an indispensable tool for the daily maintenance of the outdoor facilities.
8/31/2020, Family Kübler, Wendelstein, Farmer
More time for the family
Since we exchanged our first Thaler 2034 against the new and bigger 2238 we have even more applications for the loader. Especially because of the higher stand safety and lifting power we have more reserves in daily use. Every day we are happy about our red "speedster" and like to spend the newfound time with the family.
8/30/2020, Martin Munzert, Schönwald, Organic farm
Extremely compact telehandler 48T18
Since a few years we are working with our greatly compact Thaler telehandler 48T18 on our organic farm in the idyllic "Schönwald" in the black forest. He is very helpful in managing our daily workload. Since we bought the new bale clamp for 2 bale we can much quicker bring home the straw. We never want to be without our Thaler again.
8/28/2020, Farmstead Wehlenberg, Family Öffinger
We have chosen the loader 2238S and have no regrets.
We are living on the farmstead Whelenberg in the beautiful Francs, Germany and have a 2238 S for quite some time now. We never regretted buying a Thaler. Our Thaler is in daily use on the farm and helping us with all upcoming work. It covers all the work that has to be done for example it is used to clean out the stable, to bale and feed transportation, to sweep the ranch and load and unload material. With his compact dimension and great power he can do a lot of work which had to be done with the tractor and frontloader. It is by a multiple more agile and maneuverable as his "big brother". Even in the private sector we are using it for some transport and lifting work.
8/24/2020, Family Handschuck, Birkach am Rothsee, Horse ranch
We can only recommend the loader.
Our daily work not only being sweetened by the view on the lake but also on the reduction of work because of our Thaler yard loader. By now we have already two units helping us with our multiple tasks. We like to spend the time safed with our Family. The extremely high stability under load surprises us again and again with our challenging work.
7/30/2020, Martin Deflorin, Berching, horse breeding
Strong like our horses
When we started to build the new stable for the heavy horse breed and started with additional pension horses the workload was nearly unmanageable. That was when we bought our Thaler to manage the work. The Thalers strength is similar to our horses which are also used to pull the tow-boat. Now, we handle our diverse workload with our Thaler.
Yard loader 2238
(latest model is the 2438 L/S/H)
7/21/2020, Christian Heinlein, Dietenhofen, wood processing company
Our second Thaler – now the compact telehandler
My wood processing company is located in Bavaria. Despite the extremely compact dimensions the Thaler telehandler makes a great job. I am pleased about the great performance at many different tasks every single day. Our first Thaler was a normal wheel loader. We exchanged it for the telehandler so that we now have even more possible tasks especially with the machine loading/unloading.
7/16/2020, Bernhard Schweiger, Wald
We are completely satisfied!
We were looking for a safe and easy-to-operate machine for our difficult terrain and found it with the Thaler 48T18. We are very satisfied.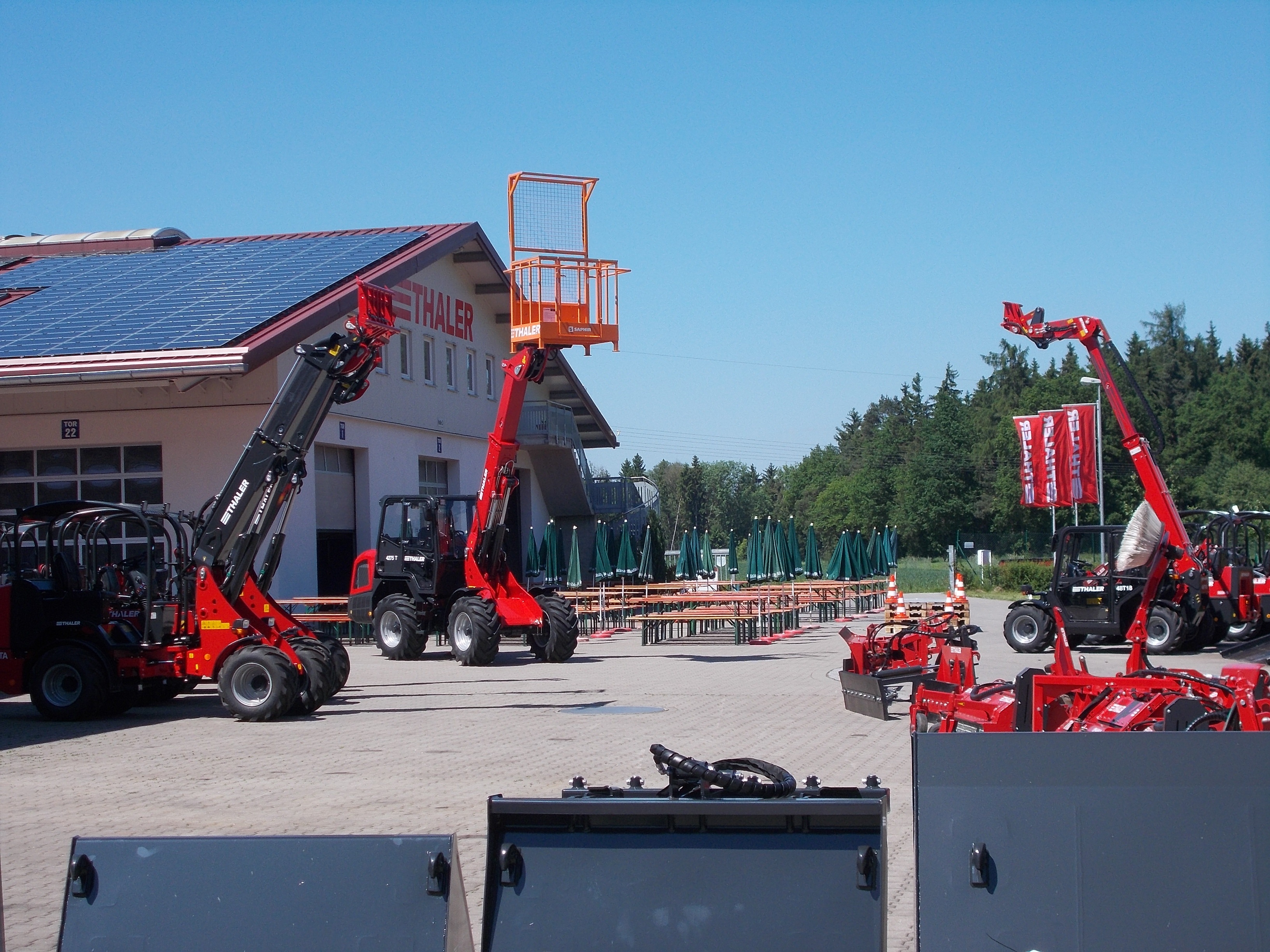 You would like to find out more?
Meet us at the next exhibition nearby