5 axis telescopic wheel loader 3448 T-5A
Extremely high.
Extremely maneuverable.
The next step.
Technical details
| | |
| --- | --- |
| Engine | 4-cylinder-yanmar-48hp, 35,4 kW (48 hp) |
| Displacement | 2190 ccm |
| Exhaust gas treatment | Yes |
| Cooling | Water cooler, Oil cooler |
| Hydrostatic drive / Pressure | Hydrostat/ 365 bar |
| Transmission | axialkolbenmotor-gelenkwelle |
| Lifting capacity | 2500 kg |
| Standard tires | 400/50-15 AS Profil mit 6-Loch Felge |
| Working hydraulics / Pressure | ca. 51 l/min / 200 bar |
| Tipping load machine straight with bucket (tele arm fully out) | 1200 kg |
| Tipping load machine straight with bucket (tele arm fully in) | 2200 kg |
| Tipping load machine straight pallet forks (tele arm fully out) | 1000 kg |
| Tipping load machine straight pallet forks (tele arm fully in) | 2000 kg |
| Speed in km/h | 25 km/h (2 stage) |
| Battery | 12V-75AH |
| Volume Diesel tank | 50 l |
| Volume Hydraulic oil tank | 50 l |
| Width | 1660 mm |
| Load-over height (tele arm fully out on telescop loaders) | 3897 mm |
| Load-over height (tele arm fully in on telescop loaders) | 3142 mm |
| Height | 2260 mm |
| Operating weight | 3400 kg |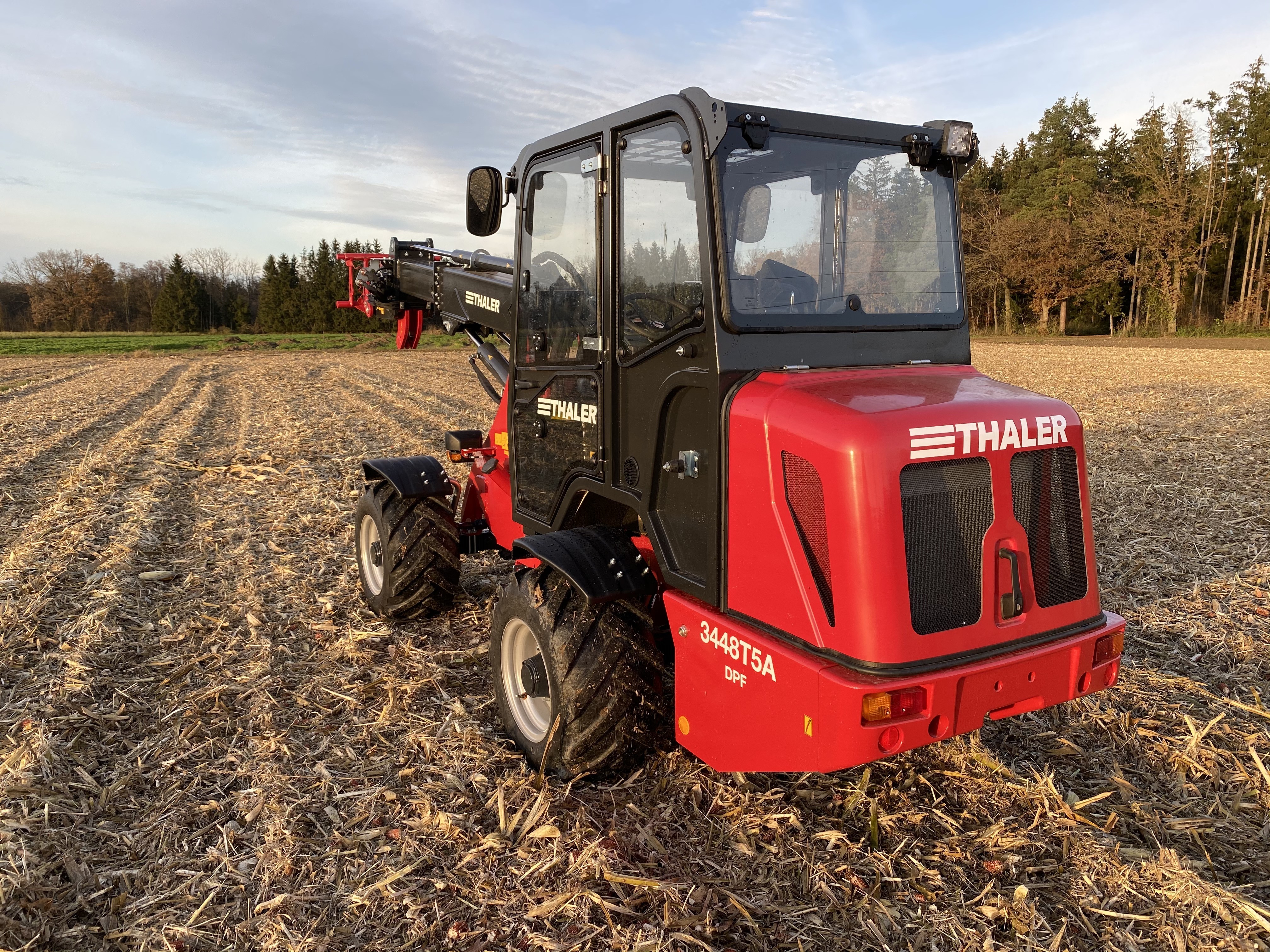 Pushing the limits of reach and maneuverability
The 3448 -5A series has won no less than 3 innovation awards

GaLa Bau in fall 2018

Equitana in spring 2019

Sommet dÓR in fall 2019
With the unique combination of all-wheel-steering and center-articulation-steering we took the maneuverability of a capable wheel loader to the next level. So why stop there?
We never stop to develop better ways to meet your demands. We went the extra mile so you can go the extra mile.
Now you can not only operate a serious performance machine in really tight spaces but you can lift loads 25 percent higher than our largest H model. The 3448 T-5A sets new standards.
With a tipping-load of up to 2200 kg and a load-over-height of 3,90 meters you can get things done where they need to be done.
A high-quality Yanmar engine produces a solid 48 hp. That is enough to tackle any job. Like all our loaders the 3448 meets Stage V emission standards.
Equipped with a diesel oxidation catalyst (DOC) and a diesel particulate filter (DPF) the 3448 contributes to a cleaner future without any need for AdBlue.
The high quality Yanmar DPF comes with a 6000 hours maintenance free promise, so this won't be troubling you anytime soon.
The powertrain consists of an automotive control, a drive shaft and high output planet drives so it is made sure every last foot-pound of torque is available at the wheels.
Even at low rpms.
Wet sand, silage or heavy soil can be loaded in the bucket with the highest shear force.
Heavy pallets are lifted with ease. Full lifting force while creeping is achieved with the Thaler inch-brake-pedal. It combines the inching mechanics and the brake-action in just one pedal.
This highly versatile machine is resetting the limits of what you can do. With a lot of additional options you can fit it to your needs even more. Lighting, a trailer hitch, different tires and more.
Go for an all-year-round closed cabin, or stay with the standard canopy to get on and off in no time. If you need the canopy to be even lower sometimes, get our optional patented hydraulically lowerable FOPS-ROPS roof.
Either way the operator's seat will always be vibration damped for a smooth ride.
Many more options are available to fit the 3448 right to your needs.
We also offer a large variety of attachments, so you can get every job done to full satisfaction. And, of course, the 3448 H comes with a hydraulic quick hitch, no need to get up.
Get in touch and learn more about how the 3448 L-5A is gonna get your job done - every time.
Standard equipment
3 LED working lights
adjustable ergonomic seats
Thaler inch-brake-pedal allows to creep and brake with just one pedal
adjustable multi-purpose steering column
hydraulic quick hitch
optimized parallel motion
heavy duty Thaler center articulation joint
2 steering-rams
convenient access, no drive shaft hump
maintenance free wet multiple-disc-brake
lubrication point optimized for easy access
oscillating rear axle - for maximum stability
all-wheel, front-, crab-, articulated-steer - or combined
DPF minimum 6000 hrs maintenance free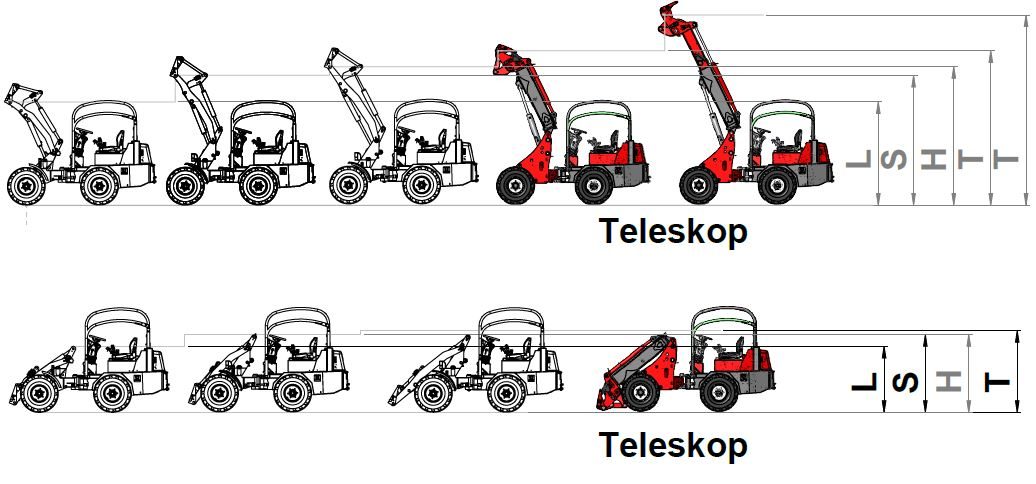 roadworthy lighting according to regulations available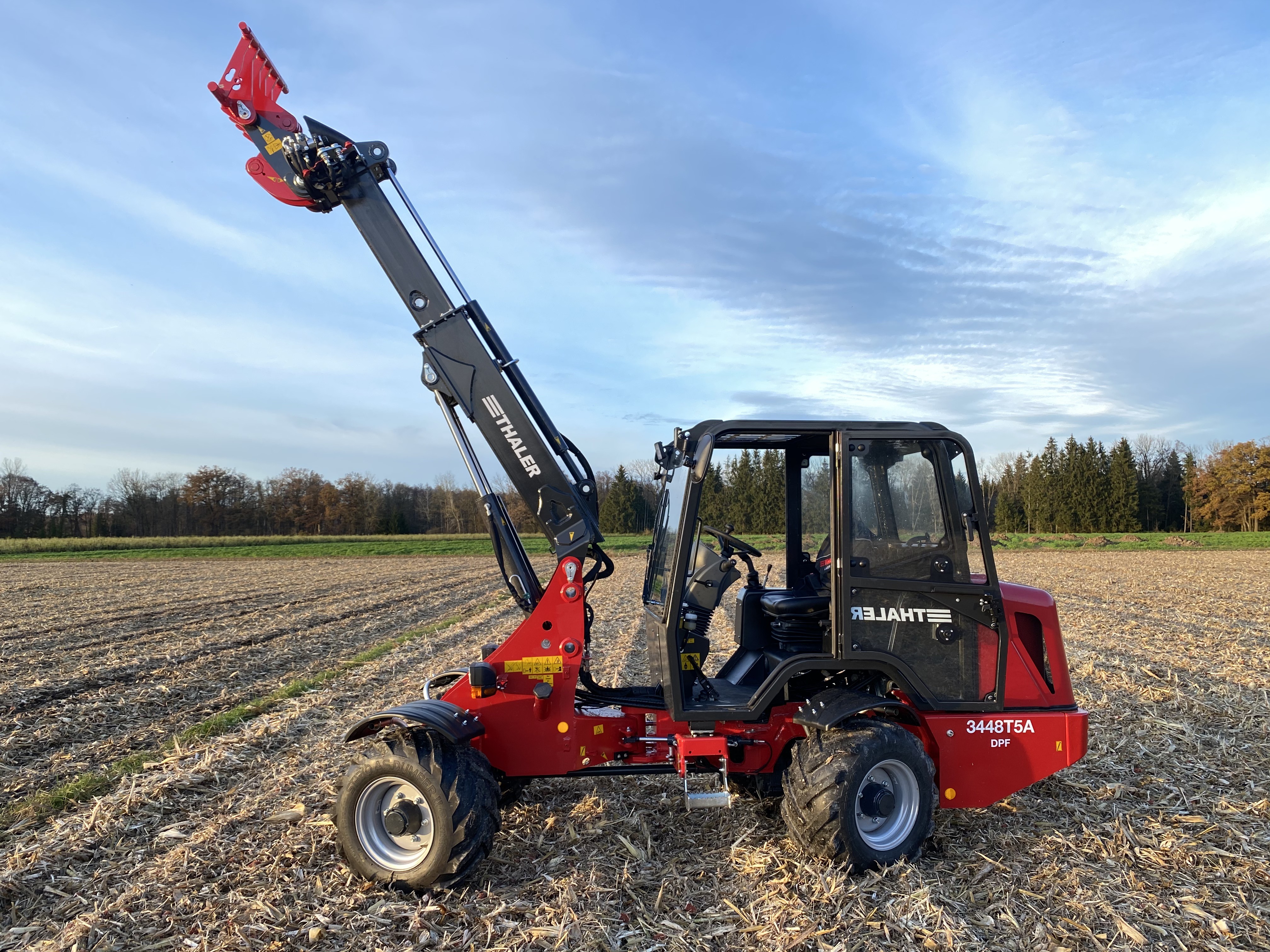 load-over-height of 3,90 meters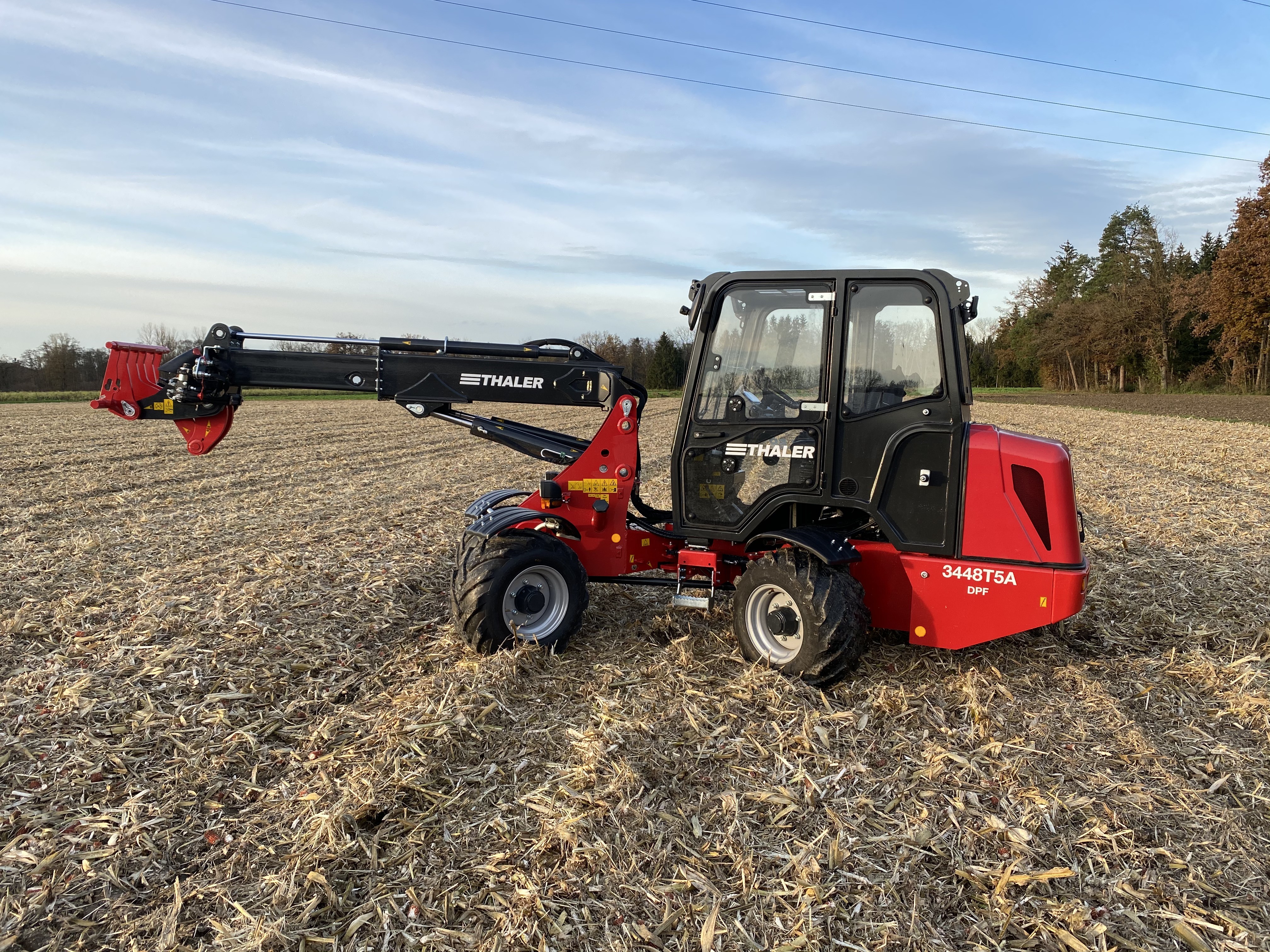 high operating range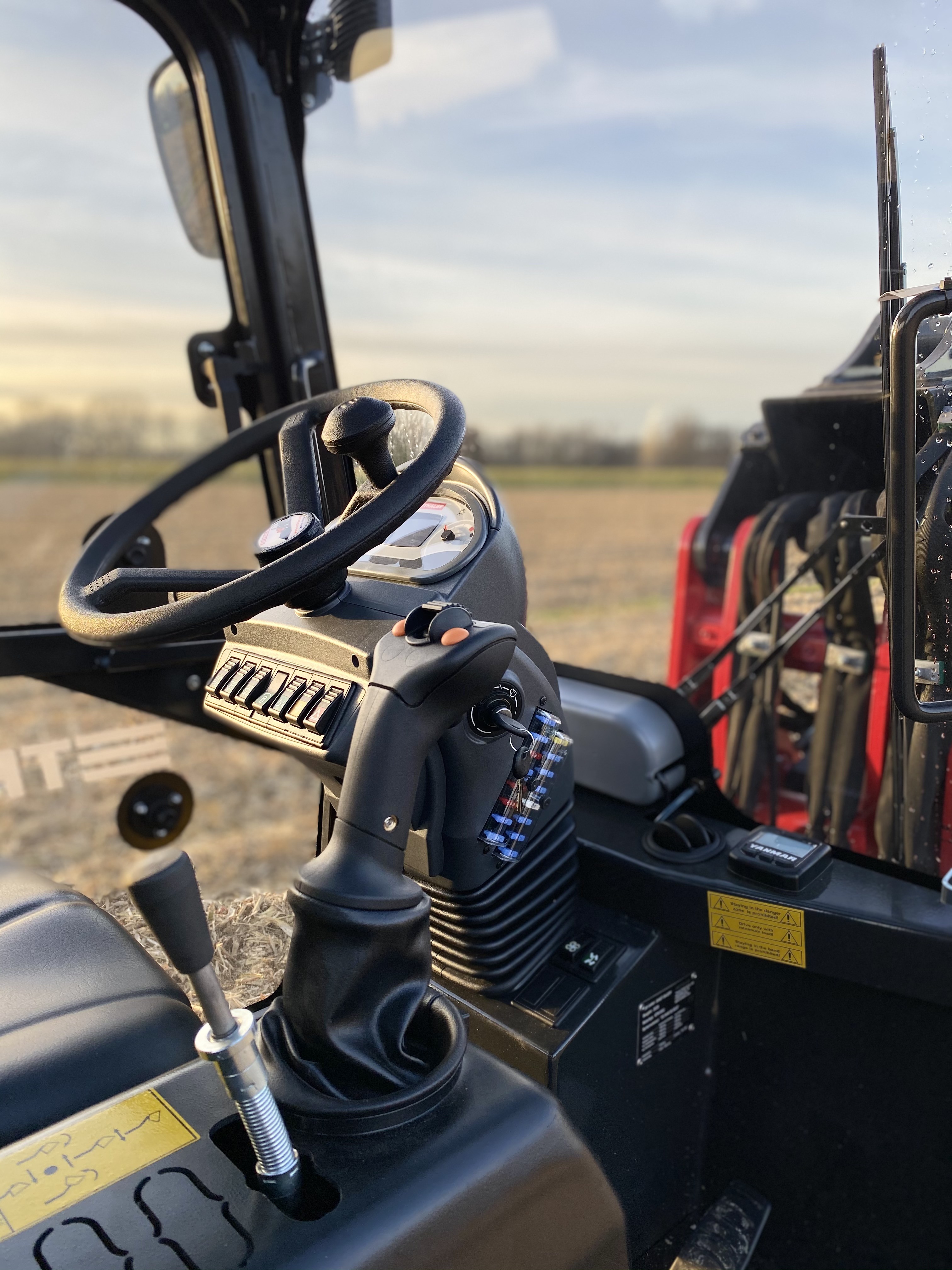 high quality workplace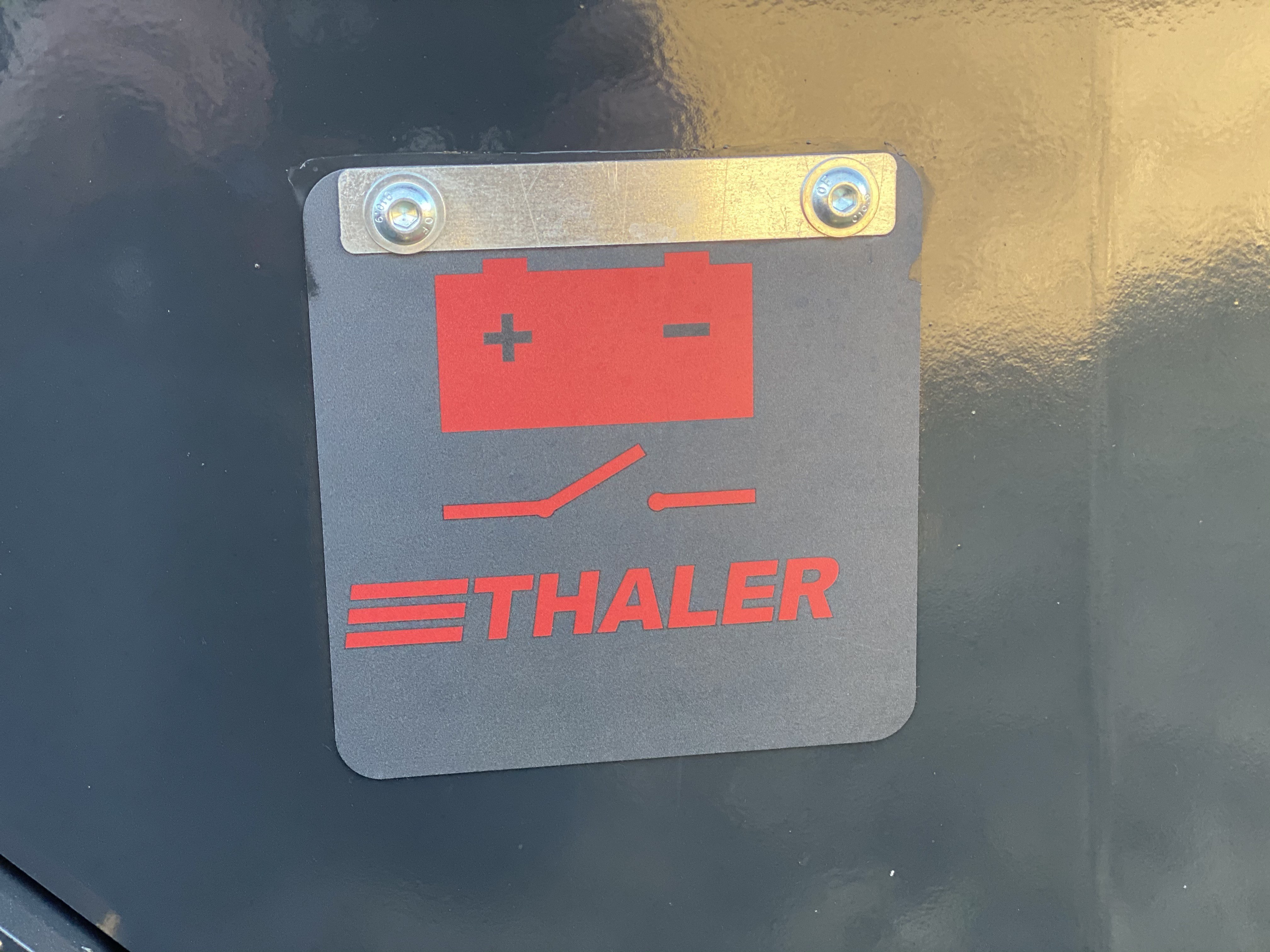 battery main switch accessible from the outside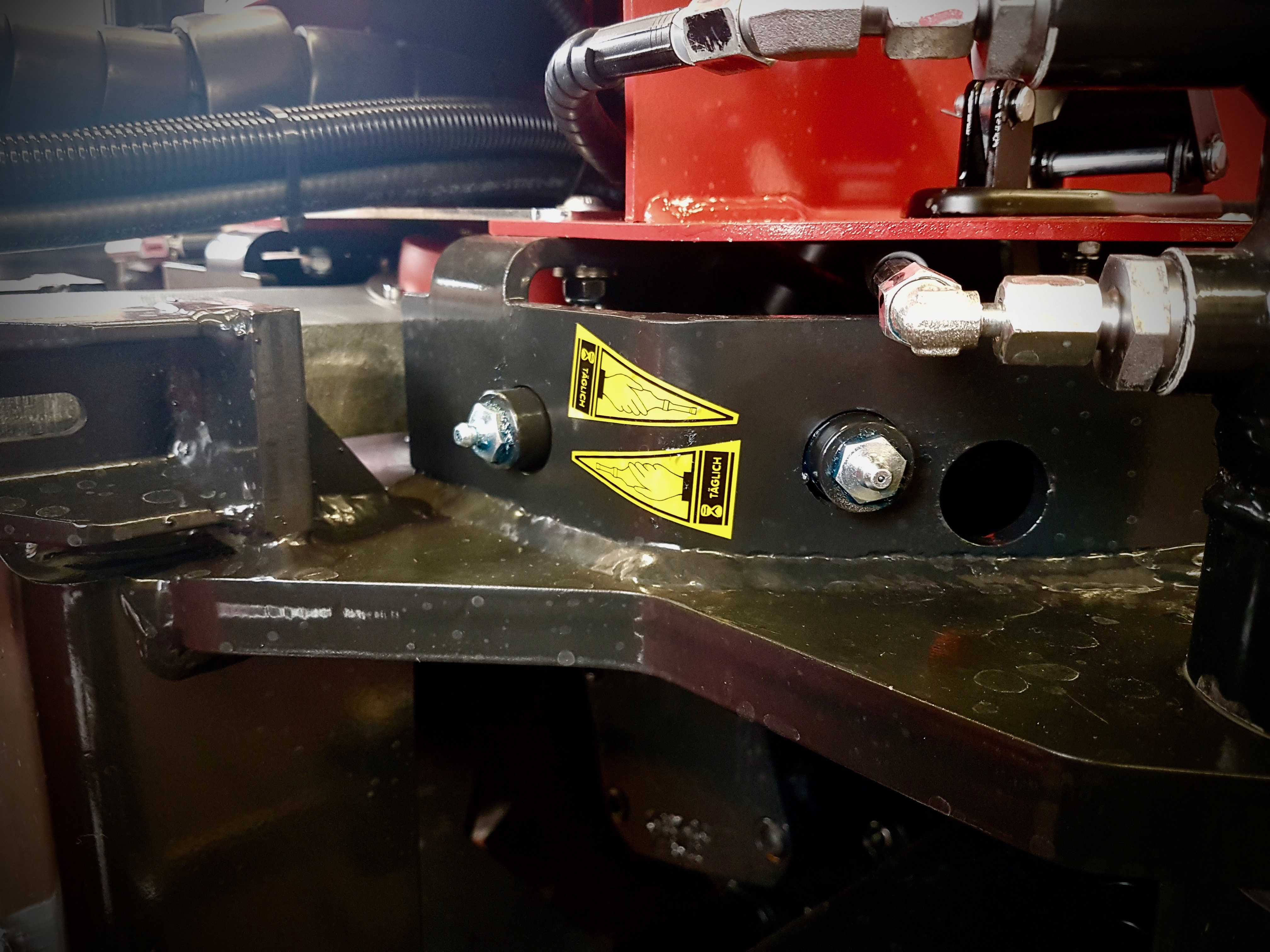 lubrication point optimized for easy access
Pictures may display additional equipment
Please note that pictures may display series L/S/H
Errors and omissions are excepted

Telescopic wheel loader compared
Engine
Displacement
Exhaust gas treatment
Cooling
Hydrostatic drive / Pressure
Transmission
Lifting capacity
Standard tires
Working hydraulics / Pressure
Tipping load machine straight with bucket (tele arm fully out)
Tipping load machine straight with bucket (tele arm fully in)
Tipping load machine straight pallet forks (tele arm fully out)
Tipping load machine straight pallet forks (tele arm fully in)
Speed in km/h
Battery
Volume Diesel tank
Volume Hydraulic oil tank
Width
Load-over height (tele arm fully out on telescop loaders)
Load-over height (tele arm fully in on telescop loaders)
Height
Operating weight
3-cylinder-yanmar-38hp, 28,2 kW (38 hp)
1642 ccm
Yes
Water cooler, Oil cooler
Hydrostat/ 365 bar
2000 kg
400/50-15 (Breitbereifung) mit 6-Loch Felge
ca. 51 l/min / 180 bar
690 kg
1320 kg
1020 kg
18 km/h (2 stage)
12V-75AH
50 l
50 l
1380 mm
3897 mm
2480 mm
2240 mm
2800 kg

4-cylinder-yanmar-48hp, 35,4 kW (48 hp)
2190 ccm
Yes
Water cooler, Oil cooler
Hydrostat/ 365 bar
axialkolbenmotor-gelenkwelle
2500 kg
400/50-15 (Breitbereifung) mit 6-Loch Felge
ca. 51 l/min / 200 bar
1270 kg
2280 kg
1330 kg
2070 kg
20 km/h (2 stage)
12V-75AH
50 l
50 l
1386 mm
3897 mm
3142 mm
2270 mm
3300 kg

4-cylinder-Yanmar, 53 kW (72 hp)
3320 ccm
Yes
Water cooler, Oil cooler
Hydrostat/ 365 bar
axialkolbenmotor-gelenkwelle
4000 kg
405/70-R20ET+30 AS
ca. 75 l/min / 200 bar
3000 kg
2500 kg
25 km/h (2 stage)
12v-100AH
50 l
70 l
1730 mm
4460 mm
3550 mm
2570 mm
5200 kg

4-cylinder-yanmar-48hp, 35,4 kW (48 hp)
2190 ccm
Yes
Water cooler, Oil cooler
Hydrostat/ 365 bar
axialkolbenmotor-gelenkwelle
2500 kg
400/50-15 AS Profil mit 6-Loch Felge
ca. 51 l/min / 200 bar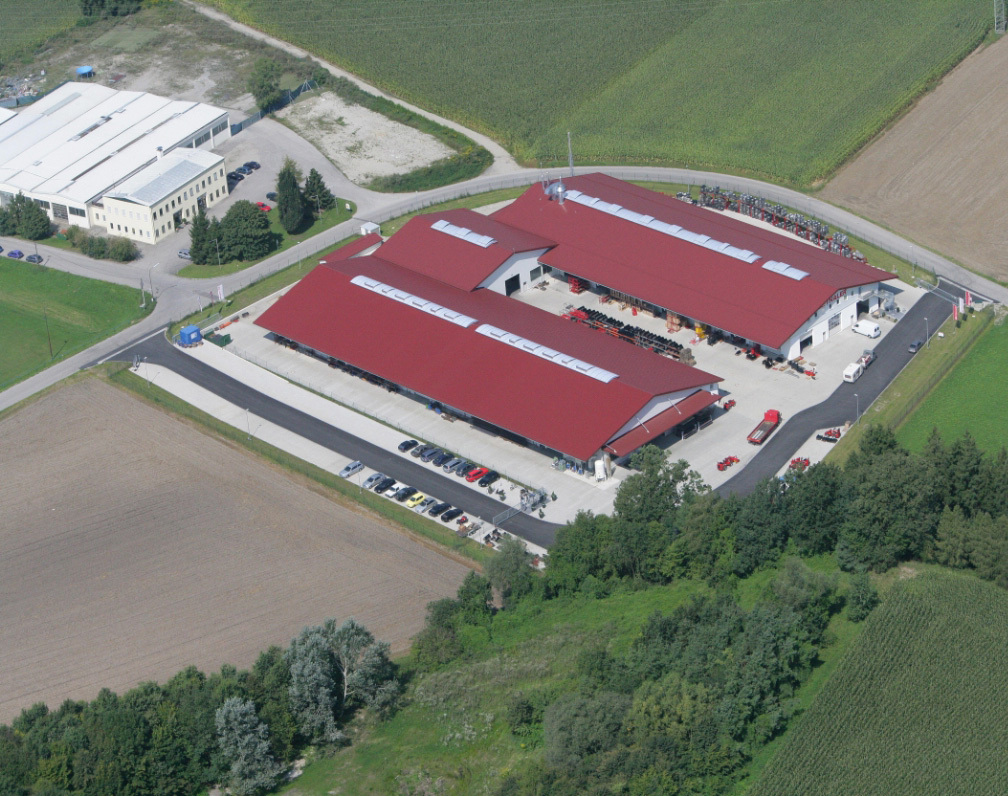 Consulting and Sales
Your concern is our concern